About Sandhills Service
The Company
Sandhills Service started in May of 2012 with the intention of providing the best possible service in the camping and recreational industry.
I have always wante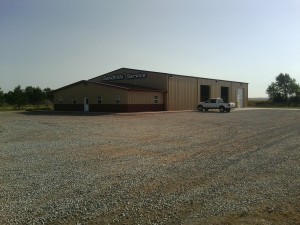 d to run and manage my own business and after hearing about a Broken Bow company closing their doors after 30 years of service; it seemed like the right opportunity to start with.  There were several pieces of the puzzle that fit together to make it a reasonable decision to make.  My parents had a building and location available for rent that would be perfect for the business. We made a trip to visit with Ed and Pat Leach owners of Leach Campers in Council Bluff, IA and Lincoln, NE. They had a lot of encouragement and support that made the idea that much more credible.
At the end of April I resigned from my position with NCTC and started getting the business going. The first couple months were spent getting the shop and store front setup and prepared for service work. We began creating relationships with suppliers and dealers in the industry. Setup computer system that will be able to handle our accounting, retail sales and work order tasks. Started building inventory and getting shop setup with tools, equipment etc. We began doing service calls out to the Calamus Lake at the end of June with great reviews building our customer relationships and getting the word out that we are available for all their service needs.
Our intention is to provide great service in a lot of different areas that continually keeps growing as we find out the need is there. We are currently doing the following but not limited to these services. All camper repair and service for example, roof replacement/repair, all major appliance repair/replacement, plumbing, electrical, propane, and any other service work that is needed either at the campsite or in our shop. With our mobile service we offer pickup of your camper to bring to our shop for repair and return if need be. We will also provide RV, Truck, or Bus windshield replacement. All general repair on any type of trailer including but not limited to custom living quarters in horse trailers, repair or replace floors, brakes, bearings, lights etc. We also have inside and outside storage available as well. With customers inquiring about used campers we have decided to get a dealer's license to be able to buy and sell used campers. In addition to selling used campers we are also offering them for Rent in the Calamus Lake and local areas.
Jason DeGroff
Owner